Directorio Académico
Investigador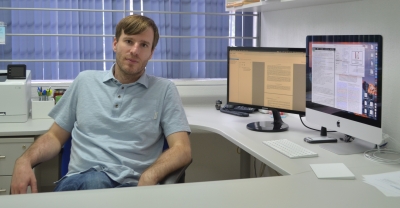 Fernández Ramírez, César
Resumen curricular
Current position:
Senior Researcher/Associate Professor (Investigador Titular B)
National Researcher Level 2, CONACYT
Research interest:
Theoretical hadron physics. Hadron spectroscopy and exotic states of QCD. Amplitude analysis. Regge physics. Effective field theories of QCD. Chiral symmetry breaking. Chiral perturbation theory. Three-body decays. Meson scattering and photoproduction. Statistical and information theory methods for data analysis and model selection.
Educative projects:
- Fellowship manager of the HUGS International Fellowship for Graduate Students in Developing Countries (2015-present).
- Member of GAE-UNAM and DivulGAE.
Awards and Distinctions:
- CONACYT National System of Researchers Level 2 (2020-2023)
- CONACYT National System of Researchers Level 1 (2017-2019)
- Institute of Physics trusted reviewer (2020)
- PRIDE C (UNAM, 2021)

Scientific Publications: Databases
-
orcid.org/0000-0001-8979-5660
- INSPIRE-HEP
Education:
- 06/2006. PhD. in Physics. Universidad Complutense de Madrid (UCM). Spain. Title: Electromagnetic Production of Light Mesons.
- 06/2003. MSc in Atomic and Nuclear Physics and Renewable Power. UCM. Spain.
- 06/2001. Licentiate in Physics. UCM. Spain
Former positions:

- 11/2015 - 02/2021. Junior Researcher/Assistant Professor (Investigador Titular A). ICN-UNAM. Mexico.
- 10/2013 - 12/2015. Theory Center Postdoctoral Staff. Thomas Jefferson National Accelerator Facility (Jefferson Lab). USA.
- 03/2011 - 10/2013. "Juan de la Cierva" Research Fellow. UCM. Spain.
- 10/2009 - 02/2011. Postdoctoral Research Associate. European Centre for Theoretical Studies in Nuclear Physics and Related Areas (ECT*) and Fondazione Bruno Kessler (FBK). Italy.
- 12/2007 - 09/2009. Postdoctoral Fellows, Center for Theoretical Physics and Laboratory for Nuclear Science, Massachusetts Institute of Technology (MIT). USA.
- 07/2007 - 09/2007. Research Support Contract. Nuclear Physics Group. UCM. Spain.
- 08/2003 - 11/2003. Doctoral Marie Curie Fellow. ECT*. Italy.
- 09/2002 - 08/2006. PhD Fellow. Instituto de Estructura de la Materia, Consejo Superior de Investigaciones Científicas (IEM-CSIC), Spain.
Materias que imparte
Reacciones Nucleares (Maestría)
Estructura Nuclear y Hadrónica (Maestría)
Curso Propedéutico en Electromagnetismo para la Maestría en Ciencias (Física) (Posgrado)
Curso Propedéutico en Física Moderna para la Maestría en Ciencias (Física) (Posgrado)
Curso propedéutico de Mecánica Cuántica (Posgrado)
Mecánica Cuántica I (Maestría)
Líneas de investigación
Chiral Perturbation Theory, Hadron spectroscopy, Machine Learning applications in High-Energy Physics, Particle physics, Quantum chromodynamics (QCD)
Premios, reconocimientos y distinciones
Reconocimiento (Institute of Physics 2020)
Distinción (CONACYT 2019)
Premio (Fundación Marcos Moshinsky-UNAM 2019)
Distinción (CONACYT 2016)
Proyectos
| Título del proyecto | Institución que financia | Cobertura |
| --- | --- | --- |
| QCD a bajas energías: Modelos microscópicos y fenomenológicos | CONACyT | Nacional |
| Desarrollo de amplitudes de dispersión para física hadrónica | CONACyT | Nacional |
| Machine Learning para espectroscopía hadrónica | PAPIIT | Institucional |
| Cálculos de interacción mesón-barión utilizando teoría quiral de perturbaciones y modelos dispersivos | PAPIIT | Institucional |
| Hadrones con encanto escondido | PAPIIT | Institucional |
Selección de publicaciones
Estudiantes y postdocs
Tesis de licenciatura y posgrado
| Título | Estudiante | Grado académico |
| --- | --- | --- |
| Fenomenología de Regge de los polos $N^*$ y $Delta^*$ | Silva Castro, Jorge Antonio | Maestría |
| Estudio de los polos de la matriz de dispersión en un modelo sencillo | Martínez Ventura, Selene | Licenciatura |