Directorio Académico
Investigador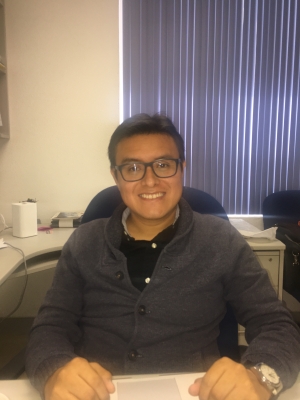 Ortiz Velásquez, Antonio
Resumen curricular
Associate Professor ("investigador titular B"). Member of the ALICE international Collaboration, European Organization for Nuclear Research (CERN), Geneva (Switzerland). Participation in the first publication of the Large Hadron Collider (LHC). Main contributor of several original directions in ALICE such as multiplicity-, spherocity-, RT- and rdE/dx-based studies, the results have been reported in 16 scientific publications supported with 17 analysis notes. Co-author of 310 cientific publications of ALICE, 22 peer-reviewed publications with a reduced number of co-authors, and 24 conference proceedings. More than 46 oral presentations at international conferences, and more than 30 seminars.
Member of the international advisory or program committees of the conferences: "Large Hadron Collider Physics", "Multiparton Interactions at the LHC", "QCD challenges at the LHC".

Referee of International Journals: Physics Letters B, European Physical Journal C, Nuclear Physics B, Chinese Journal of Physics, and Advances in High Energy Physics.

International MasterClasses: Particle Physics and Particle Therapy (IPPOG).
2022-2024: Member of the Editorial Board of the ALICE collaboration.
2017 - present: Deputy Team Leader of ALICE in ICN-UNAM.

2021

- 2022: Responsible for the high multiplicity trigger of ALICE.

2018

- 2020: Member of the Physics Board of ALICE.
2018 - 2020: Coordinator of the Physics Working Group "MM" (Monte Carlo Generators and Minimum Bias Physics) of ALICE.
2014 - 2018: Coordinator of the Physics Analysis Group "SPECTRA" of ALICE.
2011 - 2013: Postdoctoral research fellow at Lund Univeristy (Sweden).
Materias que imparte
Monte Carlo y análisis de datos en fisica de altas energías (Maestría)
Métodos de la Física Experimental de Altas Energías (Maestría)
Curso Propedéutico en Física Moderna para la Maestría en Ciencias (Física) (Posgrado)
Física Moderna (Maestría)
Mecánica Clásica (Posgrado)
Electromagnetismo II (Licenciatura)
Laboratorio de Física Contemporánea II (Licenciatura)
Mecánica Clásica (Maestría)
Seminario de Investigación I (Maestría)
Seminario de Investigación II (Maestría)
Líneas de investigación
Application of statistical, Monte Carlo and other advanced techniques for data analysis, Design and construction of particle detectors, Machine Learning applications in High-Energy Physics, Phenomenology of multiparticle production in pp collisions
Premios, reconocimientos y distinciones
Premio (Reconocimiento Distinción Universidad Nacional para Jóvenes Académicos 2018)
Proyectos
| Título del proyecto | Institución que financia | Cobertura |
| --- | --- | --- |
| Búsqueda del plasma de quarks y gluones en colisiones protón-protón y desarrollo de nuevos detectores | PAPIIT | Institucional |
| Búsqueda del plasma de quarks y gluones en colisiones protón-protón y desarrollo de nuevos detectores | DGAPA | Internacional |
| Estudio de la materia en condiciones extremas usando métodos de Machine Learning en el experimento ALICE del LHC | CONACyT | Internacional |
| Participacion de México en la Frontera de la Física de Altas Energías en el CERN | CONACyT | Internacional |
| Estudio de la materia en condiciones extremas usando métodos de Machine Learning en el experimento ALICE del LHC | CONACyT | Internacional |
Selección de publicaciones
Estudiantes y postdocs
Postdoctorado
| Nombre | Actividades |
| --- | --- |
| Tripathy, Sushanta | Búsqueda de jet quenching en colisiones pp y p-Pb. |
| Bencédi, Gyula | Fenomenología de las interacciones hadrónicas a altas energías |
Tesis de licenciatura y posgrado
| Título | Estudiante | Grado académico |
| --- | --- | --- |
| Study of charged pion, kaon, and (anti)proton production at high transverse momenta in pp and p–Pb collisions with the ALICE experiment at the CERN LHC | Bencédi, Gyula | Doctorado |
| Estudio de las propiedades de las colisiones pp y p-Pb en ALICE | Bello Martínez, Héctor | Doctorado |
| Study of the underlying event activity in pp and p-Pb collisions with ALICE at the LHC | Mehmood Khan, Ahsan | Doctorado |
| Transverse momentum spectra as a function of multiplicity and spherocity using a Bayesian unfolding | Romo López, José David | Maestría |
| Estudio de las interacciones partónicas múltiples en colisiones protón-protón usando aprendizaje de máquina | Zepeda García, Erik Alfredo | Maestría |
| Estudio del "Underlying Event" asociado a jets de quarks y gluones en colisiones pp a las energías del LHC | Durán Navarro, Josué Alberto | Maestría |
| Characterization of the quark gluon plasma using particle identification in ALICE at the LHC | Vázquez Rueda, Omar | Maestría |
| Producción de partículas cargadas en función del evento subyacente en colisiones pp, p-Pb y Pb-Pb | Vargas Torres, Paola | Maestría |
| Aislamiento de colisiones pp raras en ALICE LHC usando técnicas de aprendizaje de máquina | Sotarriva Álvarez, Isaí Roberto | Licenciatura |
| Estudio experimental de la producción de K0* y phi en colisiones p-Pb en el LHC | Gallegos Medina, Talhía | Licenciatura |
| Construcción y caracterización de un detector gaseoso de cámara de placas resistivas de espacios múltiples (Multigap Resistive Plate Chamber MRPC) | Ruiz Ramírez, Vladimir | Licenciatura |
| Operación y simulación de detectores MRPC | Díaz Maldonado, Marco Antonio | Licenciatura |
| Producción de partículas primarias cargadas en función de la actividad subyacente en colisiones protón-protón en el experimento ALICE del LHC | Tiscareño Montoya, Luz Elena | Licenciatura |