Directorio Académico
Investigador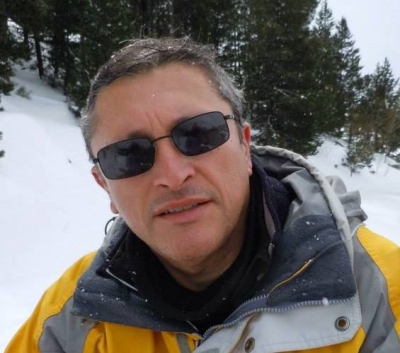 Medina Tanco, Gustavo Adolfo
Resumen curricular
Investigador del Departamento de Físicas de Altas Energías desde el 2006. Es responsable del Laboratorio de Instrumentación Espacial y participa en un proyecto en el cual se planea enviar 8 robots a la Luna a fin de contribuir al conocimiento de ese satélite natural y para construir estructuras como un panel solar.
Ganó el premio Chair of the Scientific Committee of the JEM-EUSO International Collaboration en el 2010.
Cuenta con más de 200 artículos y publicaciones en revistas arbitradas y reconocidas internacionalmente. Ha presentado sus trabajos de investigación en diversos eventos académicos. Es docente en el área Física, Posgrado en Astrofísica y ha dirigido tesis de licenciatura, posgrado.
Materias que imparte
Laboratorio Avanzado (Maestría)
Seminario de Investigación III (Maestría)
Laboratorio Avanzado (Maestría)
Rayos Cósmicos Ultra Energéticos (Maestría)
Rayos Cósmicos Ultra Energéticos (Maestría)
Taller de Investigación (Maestría)
Seminario de Graduación (Maestría)
Actividades Orientadas a la Graduación (Maestría)
Física de Rayos Cósmicos (Doctorado)
Laboratorio Avanzado (Posgrado)
Seminario de Investigación I (Licenciatura)
Temas Selectos de Astrofísica de Rayos Cósmicos Ultra Energéticos (Doctorado)
Temas Selectos: Caracterización de Componentes Y Sensores Espaciales (Maestría)
Laboratorio Avanzado (Maestría)
Laboratorio de Física Contemporánea II (Licenciatura)
Seminario de Investigación I (Maestría)
Seminario de Investigación II (Maestría)
Líneas de investigación
Cosmic Rays, Design and construction of particle detectors, Instrumentación Espacial, JEM-EUSO (Extreme Universe Space Observatory), Pierre Auger: installation, commissioning and operation of the muon detector batata., Rayos cósmicos ultraenergéticos y rayos gamma
Premios, reconocimientos y distinciones
Medalla (Unión Hispanomundial de Escritores (UHE), la red Mil Mentes por México Internacional (MMMI), la Academia Latinoamericana de Literatura Moderna, la Academia Mundial de Literatura, Historia, Arte y Cult 2022)
Reconocimiento (International Astronautical Academy 2022)
Medalla (Instituto de Física, UNAM 2022)
Medalla (Instituto de Fisica UNAM 2021)
Chair of the Scientific Committee of the JEM-EUSO International Collaboration (JEM-EUSO International Collaboration 2010)
Reconocimiento (Vanderbilt University, USA 2010)
Proyectos
| Título del proyecto | Institución que financia | Cobertura |
| --- | --- | --- |
| Observatorios de Rayos Cósmicos | CONACyT | Institucional |
| Rayos cósmicos de Ultra-altas energías | PAPIIT | Institucional |
| Rayos cósmicos de altísimas energías: Observatorios Auger y JEM-EUSO | PAPIIT | Internacional |
| PLATAFORMAS DE PRUEBAS DE SUSBISTEMAS SATELITALES BASADOS EN GLOBOS Y AERONAVES NO TRIPULADAS | CONACyT | Institucional |
| JEM-EUSO | CONACyT | Internacional |
| Equipo de adquisición de datos para termo-vacío | CONACyT | Nacional |
| Vuelos suborbitales en el marco del Acuerdo de Cooperación AEM-NASA | Mixto | Nacional |
| TELESCOPIO DE MUONES PARA EL OBSERVATORIO PIERRE AUGER | CONACyT | Internacional |
| Rayos Cósmicos de Altas Energías y el Experimento AMIGA | CONACyT | Institucional |
| Rayos cósmicos de altas energías | PAPIIT | Institucional |
| Procesos de partículas relativistas en astrofísica | PAPIIT | Institucional |
| Rayos cósmicos de altas energías y experimento amiga | CONACyT | Nacional |
| HAWC, el primer experimento astrofísico de altas energías en México | CONACyT | Nacional |
| Laboratorio Subterráneo Multidisciplinario Mexicano | CONACyT | Nacional |
| EUSO: primer observatorio espacial del universo extremo | CONACyT | Internacional |
| Plataforma estratosférica nacional multipropósito para cargas útiles de ingeniería espacial y científicas | CONACyT | Nacional |
| Montaje autónomo de estructuras sobre la superficie lunar usando robots modulares auto-organizados | CONACyT | Institucional |
| Rayos cósmicos de altísimas energías: Observatorios Auger y JEM-EUSO | PAPIIT | Institucional |
| COLMENA | Mixto | Institucional |
| NanoConnect2 | Mixto | Institucional |
| NanoSiPM | Mixto | Institucional |
Selección de publicaciones
Measurement of the Fluctuations in the Number of Muons in Extensive Air Showers with the Pierre Auger Observatory
Dolivo, JC; Medina-Tanco, G; Nellen, L; PIERRE AUGER Collaboration
Physical Review Letters, 2021, 126 (15), 152002

The FRAM robotic telescope for atmospheric monitoring at the Pierre Auger Observatory
Dolivo, JC; Medina-Tanco, G; Nellen, L; PIERRE AUGER Collaboration
Journal of Instrumentation, 2021, 16 (06), P06027

Extraction of the muon signals recorded with the surface detector of the Pierre Auger Observatory using recurrent neural networks,
Dolivo, JC; Medina-Tanco, G; Nellen, L; PIERRE AUGER Collaboration
Journal of Instrumentation, 2021, 16 (07), P07016

The energy spectrum of cosmic rays beyond the turn-down around 10^17 eV as measured with the surface detector of the Pierre Auger
Observatory
Dolivo, JC; Medina-Tanco, G; Nellen, L; PIERRE AUGER Collaboration
European Physical Journal C, 2021, 81, 966
Estudiantes y postdocs
Postdoctorado
| Nombre | Actividades |
| --- | --- |
| Fitoussi, Thomas | Estudio de los rayos cósmicos |
| Fitoussi, Thomas Joseph | Simulacion de propagacion de RCUAE |
Tesis de licenciatura y posgrado
| Título | Estudiante | Grado académico |
| --- | --- | --- |
| Low-voltage power distribution system development in a scientific space mission | Silva Lopez, Hector Hugo | Doctorado |
| Diseño manufactura y validación del módulo de despligue de robots para la misión lunar COLMENA | Padilla Medina, David | Maestría |
| Diseño del sistema de control del instrumento Track-Sim para la reproducción de trazas lumínicas sobre los bloques que conforman la superficie focal del experimento JEM-EUSO | Fajardo Tapia, Isaí | Maestría |
| TESIS DE MAESTRIA | Sánchez Cajal, José Carlos | Maestría |
| Maestría en Física, junio 7 de 2019, Estudio de ambientes espaciales de radiación de altas energías y sus efectos en instrumentos orbitales e interplanetarios | Martines Salazar, Itzel | Maestría |
| Detector magne?tico de proximidad para operacio?n en superficies planetarias o asteroidales sin atmo?sfera | Sanchez Cajal, Jose Carlos | Maestría |
| Efecto de un Halo magnetizado en la prpagación de rayos cósmicos ultra-energéticos y su impacto en la interpretación astrofísica del fenómeno | Ibarra Morales, Alejandra | Maestría |
| Efectos de la estructura de la atmósfera en la detección desde el espacio de chubascos atmosféricos originados por rayos cósmicos de energías extremas | Guzmán Cabrera, Alejandro Daniel | Maestría |
| Mapeo de objetos extragalácticos extensos utilizando partículas cargadas sobre la superficie terrestre | Guzmán Cabrera, Alejandro Daniel | Licenciatura |
| Arquitectura térmica de instrumentación científica para vuelos suborbitales | Pliego Caballero, Samuel | Licenciatura |
| Diseño y manufactura de la estructura de un CubeSat 2U | Padilla Medina, David | Licenciatura |
| TESIS DE LICENCIATURA | Luna Hernández, Ximena | Licenciatura |
| Análisis de riesgo de un vuelo suborbital de lacrga estratosférica ATON | Correa Cruz, Daniel | Licenciatura |
| Tesis de licenciatura | Salazar Pérez, Eduardo | Licenciatura |
| Simulaciones numéricas de dinámica de regolito en la superficie cercana de la luna y su interacción con instrumentación científica | Román Díaz, Aldo Vladimir | Licenciatura |